News & Events
Laurie Atkinson Medieval Institute Publications Placement Scheme Report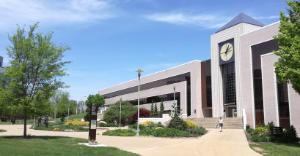 Hosting Institution: Medieval Institute Publications, Kalamazoo, Michigan
Placement Period: 05/05/18-05/07/18
I recently returned from a two-month placement with Medieval Institute Publications (MIP), the publishing arm of the Medieval Institute at Western Michigan University, Kalamazoo.
The placement was a fascinating opportunity to familiarise myself with the lifecycle of the academic book, and also to assist in the organisation of the annual International Congress on Medieval Studies (ICMS), North America's largest international medieval conference.
Both the professional and personal aspects of the placement have contributed immensely to my development as a researcher.
This was my first visit to the United States, but I received assistance both from Northern Bridge and MIP in the completion of my VISA application.
The staff at MIP were extremely welcoming upon my arrival, and I was pleased by the level of responsibility allowed to me in my role.
Reviewing author consent forms, submitting copyright claims, and proofreading manuscripts demonstrated the stringent attention to detail requisite to MIP's processes.
Producing a report summarising the trends emerging from the session proposals for the ICMS 2019 also illustrated the huge intellectual and logistical challenge presented by the conference.
In sum, my experience at MIP was invaluable both for its induction into academic publishing as a profession and in providing a competitive advantage should I look to have my own academic work published in the future.
I would like to thank Northern Bridge for allowing me to undertake this placement, and hope that many other of its other doctoral students will take the same opportunity.
Last modified: Mon, 06 Aug 2018 13:38:00 BST
Top