News
Poetry Book Launch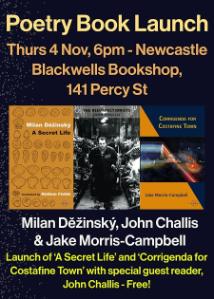 Dr Jake Morris-Campbell is an Associate Lecturer and Research Assistant in the School of English at Newcastle University. A 2021 BBC/AHRC New Generation Thinker, his debut collection of poetry is Corrigenda for Costafine Town. Described by W.N. Herbert as a work which 'positions the North-East as a major literary territory, and adds to its achievement', the book is an odyssey through the region: a collision of concrete and visionary, sacred and profane, austerity and vibrancy.
Milan Děžinský will be launching A Secret Life. Translated by Nathan Fields, this is an opportunity to discover one of the finest exponents of the current renaissance of Czech poetry. Děžinský is the author of seven collections of poetry. His work has been translated into German, Polish and, now, English. In 2018 he won the Magensia Litera Award for poetry, the most prestigious annual literary award in the Czech Republic.
Also reading will be Newcastle Centre for the Literary Arts Research Associate, Dr John Challis, author of The Resurrectionists, recently published by Bloodaxe Books and described by Newcastle University's chancellor, Imtiaz Dharker, as 'throw[ing] a great arc of light out of the city's storeyed past into the present, place, trades, family, vulnerable fatherhood.'
Books will be available for sale after the reading. All welcome.
Last modified: Tue, 02 Nov 2021 08:27:00 GMT
Top